Events

BosTen is your weekly guide to the best and coolest happenings in and around Boston.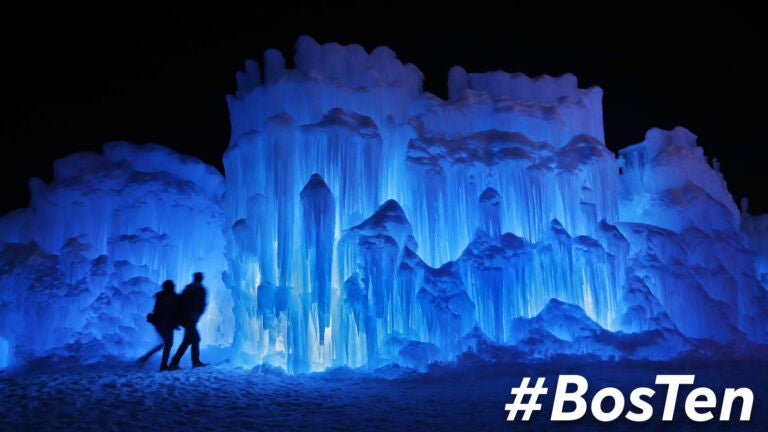 With more and more businesses and cultural institutions in Massachusetts reimposing COVID-19 restrictions in the face of the novel coronavirus pandemic, residents may be freaking out about whether to venture out of their homes this weekend. With that in mind, this week BosTen offers a mix of personal and virtual things to do in Boston this weekend. Do you have an idea of ​​what we should cover? Leave us a comment on this article or in the BosTen Facebook group, or email us at [email protected].
Celebrate Betty White's legacy at two local restaurants
Betty White – esteemed actress, animal advocate, and absolute legend – passed away at the end of 2021, just weeks before her 100th birthday. To celebrate the eggs, two restaurants are honoring special menu items. At the Precinct Kitchen + Bar in Back Bay, specialty cocktails will be available from January 13 to January 23. There's Aglis Beauty, which is made with bourbon, pomegranate juice, Chambord, lemon juice, and maple syrup; Petit White Russian, consisting of vanilla vodka absolute and Kahlua cream garnished with whipped cream and golden star sprinkles; and Golden Girl, which uses citrus vodka, Canton, lemon, and simple syrup, and is topped with shimmering gold Prosecco. At the City Tap House in Fort Point, the lively hangout will throw a brunch party on White's birthday – January 17. With clips from her acting career streaming in the background, guests can order pancakes and Golden Glitter mimosas. And in true Betty White fashion, any guest who orders a glass of vodka will get a free sausage – a fun combination favored by the famous star.
Tap your toes from home at the Boston Celtic Music Festival
Every January, Harvard Square is filled with the sounds of violins, flutes, and other Celtic musical instruments for a weekend of the annual Celtic Music Festival. This year is a different story, as the annual festival, which is traditionally held at Club Passim and other nearby venues, will be virtual. More than 20 artists will perform songs and dance from Irish, Scottish, Cape Breton and other Celtic communities from January 13-16. Free shows and the full schedule (plus a link to donate) can be accessed on the Passim website.
Check out the new Boston Nashville-style restaurant, Nash Bar & Stage
Ditch Your Dance Shoes: A few weeks after the soft opening events, Nash Bar & Stage will officially open January 17, and they're offering free dance lessons at 8 p.m. to kick-off events. In addition to dancing and live music at 5 p.m., diners can get their hands on their comfort food in the newcomer theater area—think jumbo chicken wings, fried Southern shrimp, cheddar macaroni and cheese, and slow-roasted St. Louis ribs. To drink, there are cocktails with fun names like Watermelon Sugar High and Lei'd Up in Nash, as well as cotton candy mimosas that have the flavor of the day, Prosecco, and cotton candy.
Enjoy frozen fun in New Hampshire's ice castles
Each year, tens of thousands of visitors make the trip to North Woodstock, New Hampshire to visit Ice Castles, a massive frozen attraction that features stunning structures, tunnels, slides, fountains, and more than 20 million pounds of ice. New to the attraction this year, open January 14 through March 4, is the Winter Fairy Village and the Ice Sculpture Garden, perfect for crawling tunnels, sleigh rides, and luminous mystical forests. This weekend's tickets are still available during some windows, but it's going fast.
Order clam chowder for $1 at Legal Sea Foods
One way to stay warm through these freezing temperatures? Pour a bowl of chowder from the hearty local seafood. On Saturday, you'll only need $1 to order one: As part of the "Chowda Day" series on January 15, Legal Sea Foods will offer a bowl of signature clam chowder for just $1, with proceeds donated to Boston Children's Hospital. Do you want more than just a cup? Bowls are $2, a quarter kart is $10, and a gallon of chowder is $30.
Enjoy sculptures large and small with free entry to ICA
The Institute of Contemporary Art is one of several Boston institutions offering free admission to Martin Luther King Jr. Day on Monday, giving visitors a chance to view exhibits including Diana Lawson's photographic representations of black lives, multimedia installations by Somerville artist Renee Green, and Eva LeWitt's pulsating hanging sculptures. in life. If you're worried about the long weekend crowds, the museum also offers free admission Thursday night as part of their weekly Third Thursday program.
Take an Italian Wine Tour at Fat Hen .'s Wine Dinner
Omicron may have hampered your international travel plans, but there are still ways to experience the joy of Italian wine without leaving the Boston area. Somerville's restaurant focused on Italian tasting menus, Fat Hen will host a double wine dinner on Friday, featuring a multi-course menu accompanied by a fine selection of Italian wines. Start with Katama Bay oysters and a cup of Prosecco, followed by dishes like sea scallops with acorn squash, cranberries, and kale. lamb with potato gnocchi; And Black Forest Chocolate Cake, each pair with a glass of wine. Tickets are $125 and can be purchased here.
Get inspiration from MLK speeches at the Gardner Museum
Like the Museum of Fine Arts and the ICA, the Isabella Stewart Gardner Museum will offer free admission on Mondays in honor of Dr. Martin Luther King, Jr.. The museum will display "Witness: Spirituality and the Tradition of Classical Music," a four-part video clip of the series that chronicles black American composers who found inspiration through Spiritualisms and showcases the Boston Collection of Our Skins Castle. The museum will also provide art collections to take home inspired by the words of Dr. King's speeches.
Complimentary entry to Stone Zoo and Franklin Park Zoo
If you'd rather enjoy free admission to an outdoor attraction rather than a museum, Boston's Franklin Park Zoo and Stoneham Stone Zoo offer free admission Mondays as well. Besides stopping by to see all your favorite animals, be sure to say hello to the birthday boys of Smokey and Bubba, a pair of 16-year-old black bears this weekend.
Watch a new PBS documentary about Boston in "A Reckoning in Boston"
When director James Rottenbeck began work on a documentary in 2014 in Dorchester, he sought to document students on the Clemente Course in the Humanities, a program that gives low-income adults a free chance to learn from "great literary works, art, history, moral philosophy, and American history." However, over the course of the filmmaking process, Rottenbeck began to realize that his film's introduction was flawed, and that he needed to confront his complicity in structural racism. The end result, "A Reckoning in Boston," airs on PBS Monday nights at 9 p.m., and shows how the film's original subjects, Boston's Kafe Dixon and Karl Chandler, turned the camera over to the director. For those unable to catch the Monday night premiere, "A Reckoning in Boston" will also be streamed on the PBS Video app.
Do you need weekend plans?
The best events in town, delivered to your inbox