Article content
Via Rail is temporarily reducing service along its corridor from Windsor to Quebec City and suspending business class service, citing the impact of the Omicron wave of the COVID-19 pandemic.
Article content
"While these decisions are challenging, they are in line with the balanced approach we have taken throughout the pandemic in order to fulfill our important public service mission while proactively managing the financial impacts on our operations," said Cynthia Garneau, CEO of Via Rail. Thursday statement.
"Every change we've made to our services has been, and continues to be, closely linked to the evolving health crisis and meeting market demand."
Service from Windsor to Toronto will include two round trip trains from January 19 instead of the current four trips each way. There are also changes to rail lines from Toronto to Ottawa and from Toronto to Montreal. All business class services have also been suspended.
Article content
Officials said the change in service was "carefully planned" to maintain essential services while responding to travel requests given the current pandemic restrictions imposed as a result of the Omicron variant.
Officials said there are no current changes to other routes, and the frequency cut is expected to be temporary. The company said Via Rail has also suspended all business class services and closed business lounges.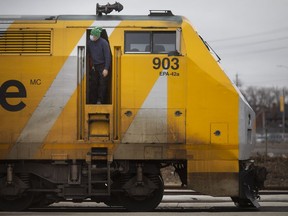 It's not the only carrier making changes in southwestern Ontario during the COVID-19 pandemic.
Greyhound Canada announced last spring that it would terminate all remaining routes in Canada, including the Windsor-to-Toronto route, after a year-long hiatus amid a decline in ridership during the pandemic.
Article content
At Windsor Airport, CEO Mark Galvin said Air Canada and Porter continue to operate flights to Toronto, and the impact of other cuts on transportation remains unclear.
Transport Canada to study high-frequency rail to Windsor

Mayor worries that a high-speed train will never reach Windsor
"It's an evolving situation with a lot of liquidity due to the omicron virus," Galvin said. At this point the situation is very fluid."
The FIA ​​said it still plans to continue on track to resume the service schedule, which includes 85 percent of service on the Windsor-Quebec City corridor by April and 100 percent by June.
ksaylors@postmedia.com